Who excluded men like William Lee from the history of the American Revolutionary War despite leaders like Washington who knew them? Artistic exclusions in one generation become the heritage of lies and distortions by other generations even to excluding the spirit of Jesus Christ existing among "the least of us." Is it possible that William Lee, like George Washington, was also a believer and heard the same sermons as he attended to Washington at Anglican worship services?
The Boston Massacre was not a massacre but actually a street fight between a mob and a squad of British soldiers that ended with the deaths of five colonists. This picture was engraved, printed, and sold by Paul Revere but does not depict events as they actually happened. Hulton Deutsch "Boston Massacre," Microsoft® Encarta® Encyclopedia 99.
American and British archives about the American rebellion give ample records of men who participated, including those who were of African and Native American heritage. But, such records are useless for the cause of liberty if ignored by artists and scholars hell-bent on deleting non-whites from human histories of courage and perseverance.
The Continental Army's encampment at Valley Forge in Pennsylvania during the winter of 1777-1778 was the bleakest time of the American struggle for independence. Hunger and disease compounded the problems of inadequate shelter and lack of adequate winter clothing. More than 2500 men died of typhus, dysentery, and pneumonia. Washington made repeated appeals for aid and supplies, but the Congress was unable to move the states to provide them. "Washington at Valley Forge," Microsoft® Encarta® Encyclopedia 99. © 1993-1998 Microsoft Corporation. All rights reserved.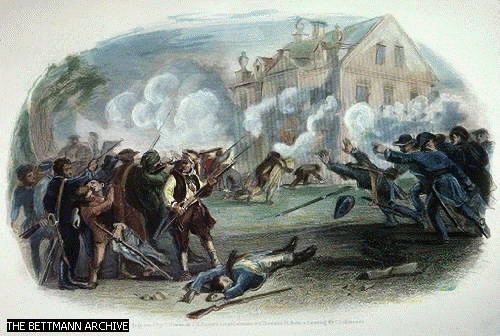 Fought on October 4, 1777, the Battle of Germantown came soon after a British victory the previous month at nearby Brandywine Creek. The defeat of the Americans in these two battles allowed the British to easily occupy Philadelphia, the home of the Continental Congress. THE BETTMANN ARCHIVE "Battle of Germantown," Microsoft® Encarta® Encyclopedia 99.
William Lee met and apparently married Margaret Thomas, (hired as a washer woman), while they were both at Valley Forge following evacuation of Philadelphia by the Continental Congress along with hundreds, if not thousands of men and women of color likely including some Hemings family members living there in service to Thomas Jefferson.
We do know that if Martha Jefferson was there, it is a certainty that either Betty Hemings or one of her daughters, likely Mary or Bett, would have been with her as "daughters of the American Revolution."