George Washington's Bodyguard/Manservant/Master of the Hunt
William Lee (1750-1828) (known as Billy, Billy Lee, and Will) was the mulatto offspring born to a slave in or around year 1750 in Westmoreland County, Virginia (or possibly in Isle of Wight County) to an unknown mother enslaved to Colonel John Lee (17.. - 1766) of the Virginia Militia (fellow officer and friend to George Washington).
William Lee's younger brother Frank Lee (1752-est.1805) by the same father and mother, ... suggests their mother was treated as a concubine and quite likely born of love between father and mother. Indications are that George Washington made a special effort to take the two youth into "his family" suggesting that he perceived a moral obligation to his deceased colleague.
For William Lee, one artist portrayed him in the popular caricature of a eunuch ... unthreatening, subservient, dwarfish, wearing a turban. Indeed, from the beginning artists helped conceptualize people of African heritage as aliens in America. As much, if not more, thousands of artists and writers of the early American culture used both art and words to intellectually castrate Black men long before it became a common ritual in the terrorism tactics of the late 19th and early 20th century. Images have always mattered most in popular culture.
William Lee, based on his offspring, ... looked nothing like what artists depicted and copied below right. His descendents prefer the image portraying him as standing tall like a man, below left, that mattered to his offspring. Documentation suggests that daughter Rose Lee and grand-daughter Nancy Banister Lee ... remembered him as worthy in naming many descendents... William Lee. Every generation has had one or more males named "William Lee."
Note: The figure in the far right of the picture below, (who's head has been darkened) is William Lee, George Washington's body guard and man-servant. Some scholars have perceived the person of color placed in the picture was more likely another body-servant to Washington after William Lee was injured. Our view is that Washington knowingly had this picture painted for posterity and thus included his old military uniform and the man (William Lee) who was constantly with him when he wore it.
George Washington with his wife Martha, their two grandchildren and William Lee*(see note)
Body servant, such as was William Lee's function, was a special category of slaves, almost always known and trusted mulatto offspring of a family member ... often used as armed body-guards in times and places of danger. During the Revolutionary War, William Lee was armed and active in every engagement that endangered Washington's life via British cannon fire or muskets. And, he was with Washington at Valley Forge and the famed crossing of the Delaware River to attack the Hessians.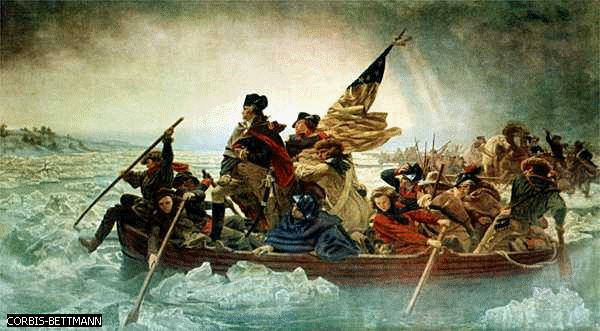 Nancy perceived that for this reason alone, as cited by George Washington himself, ... William deserved a military pension; and she (Nancy) should have been invited for membership in the snobbish "Daughters of the American Revolution" that refused to allow singer Marion Anderson to sing in Constitution Hall.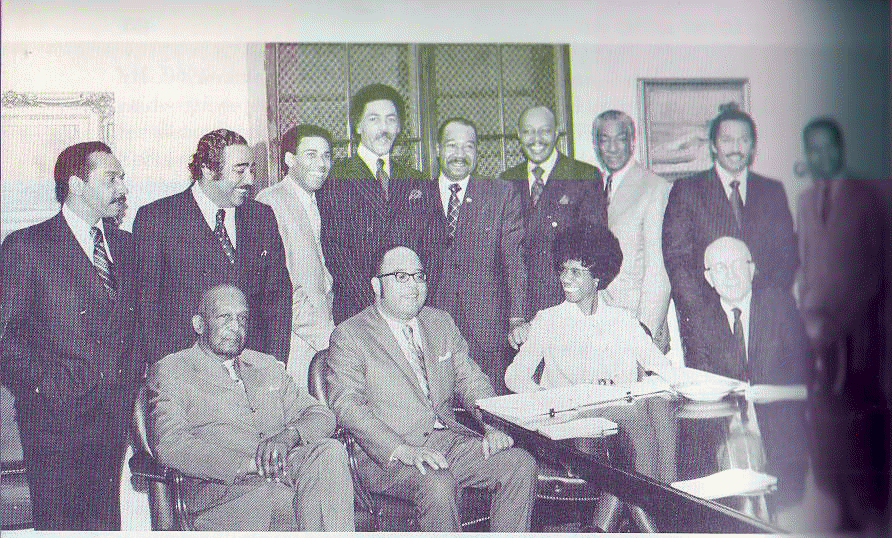 Documentation exists sufficiently for the Congress and/or Executive Branch of the federal government to correct the historical inaccuracies and exclusions of men who served the Continental Army. Integration of America also needs integration of its history.
Thousands of African-Americans living today, including some descendents of Elizabeth Hemings, are daughters of the American Revolution via both patriarchal and matrilineal heritage such as some members of Congressional Black Caucus (organized in 1971) above.