Data below reveals that William Anthony Robinson fathered eight children, but does not reveal the name or source of the mother or mothers, supporting our suspicion that she or they were likely of African or Native American heritage. Except by careful review and analysis of property and tax records in the time and places of enslavement, it is impossible to pinpoint who likely fathered who, when and where; but, persons interested can pursue the research necessary and make further inputs for this site.
Below picture reflects a father selling his mulatto born son fathered by him with an African slave mother. The scene and process was very common and routine among plantation owners. Youthful slaves, male and female, were always cash worthy. Facts are that female fertility levels between the age of puberty and before age 30 years is normally most high and slave breeders knew it. Indeed, many enslaved women were known to give birth at ages beyond 50 years.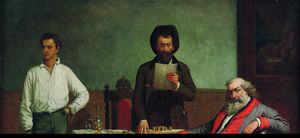 The issue to remember is that men and women for many centuries before and after the birth of JESUS lived by a philosophy that rationalized and reasoned slavery and various aspects of it, including the selling of labor by wives and offspring, to be good. Abraham Lincoln in his life experiences leading to issue of the Emancipation Proclamation experienced a childhood of being leased out by his father as a laborer to fellow farmers; and, received no form of compensation. In his lifetime and afterwards, it was common among Black and White men to take their sons, often boys of not more than eight years, to work in coal mines, salt mines, lumber camps, farming and other endeavors that compensated the father, not the boy.
It is good to know and remember these matters in the process up from Mount Calvary and why such was and is important to have a value system in the hearts and minds of men and women the world over. Except for the philosophy of Christ, the world could not have gone much further with so many hundreds of millions of men, and women too, living with attitudes and behaviors of predators. Indeed, if destruction of the dinosaurs, so scientists tell us, made it possible for other life forms, especially humans, to eventually emerge and survive, then we ought not find it hard to believe that JESUS afforded an opportunity for humanity to be born again and the process is still evolving in the 67 generations since HIS birth.
However, we leave it to intellects like Jesse (Robinson) Jackson to make the case clear.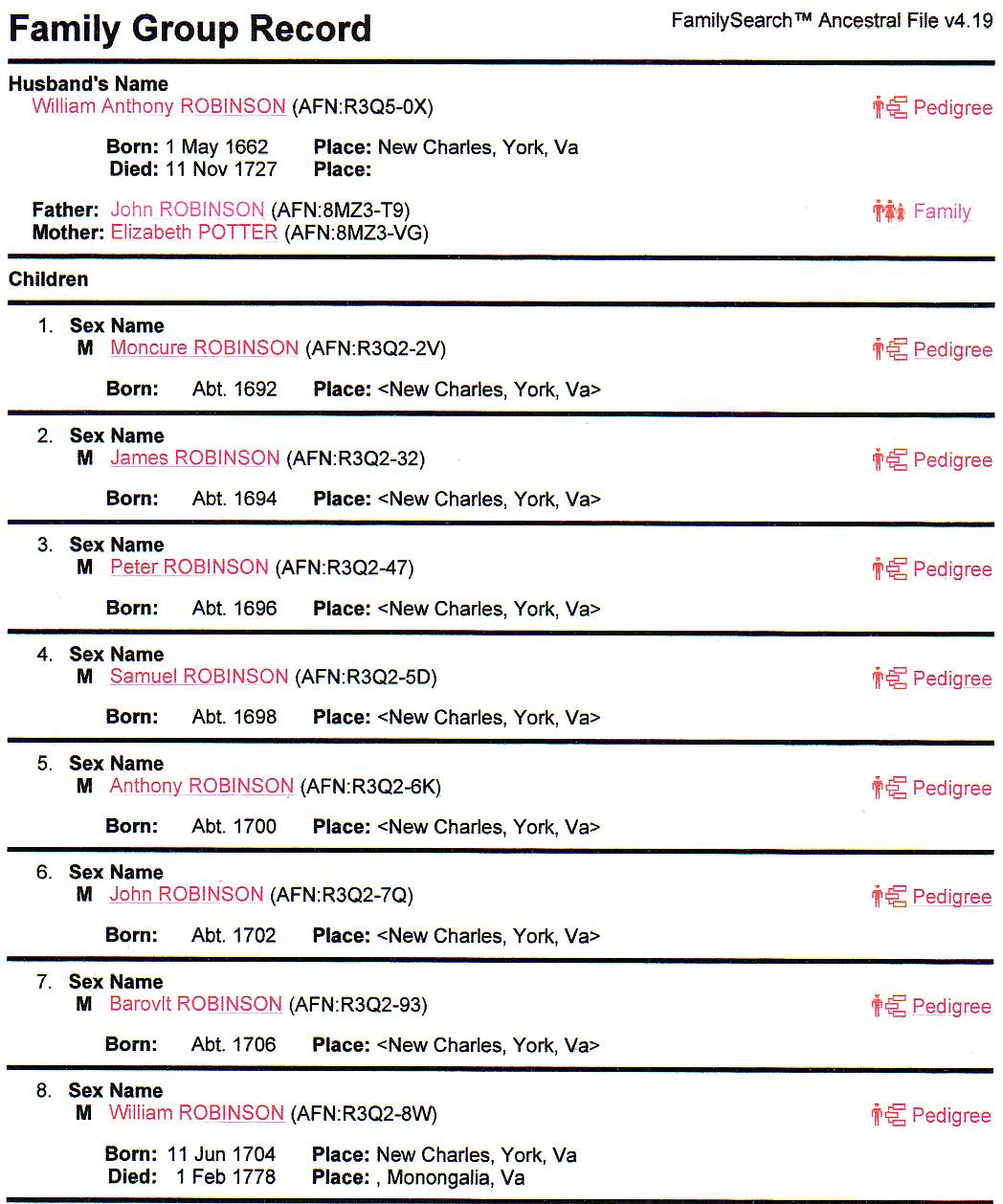 Monongalia County was formed in 1776 from that portion of Augusta County which previously had been set aside as West Augusta District. The county takes its name from the Monongahela River, although today the county's name is spelled slightly differently. Monongahela is an Indian word meaning the river of crumbling or caving banks.
Settlement in the West Augusta District had begun as early as 1758. In 1779 and again in 1780 other Augusta land was added to Monongalia. In 1784 Harrison was created from Monongalia, and additional land was ceded to Harrison in 1800. Preston County was created from Monongalia in 1818, and in 1841 Monongalia's land east of Laurel Hill Mountains and north of the Cheat River were given to Preston County. Marion County was formed in part from the southern lands of Monongalia in 1842, and in 1847 a further adjustment between the two counties saw the waters of Buffalo Creek added to Marion.
Our thoughts are that William Robinson and/or his sons by Elizabeth Potter likely fathered children by enslaved and Native American mothers. The reasoning is simply that few White women lived in the new lands of western Virginia until the early 19th century. Enslaved mothers chose names for their children not inconsistent with the practices of White mothers: ... perceived relatives and family ties.