Thomas Eston Hemings was born in 1838 to Mary McCoy and Madison Hemings at a time and place in our history up from slavery that ought never be forgotten because so many of us the living owe so very much to the chosen few like him who died that others might live better and more fruitful lives.
Growing up in Ohio during the 1840s and 1850s must have given him a world view and knowledge of self and dozens of cousins, some free and some slave. He would have listened and learned intently to the man from Illinois pronounce that "a house divided could not stand, and the nation could not remain half-free and half-slave." It is almost inconceivable that a young man like Thomas would not have been greatly impacted by sermons of Frederick Douglass and speeches by Abraham Lincoln.
Captured by confederates and held at Andersonville, Georgia, United States
| No. | Prisoner's Name | Side | Unit |
| --- | --- | --- | --- |
| 1 | | Union | 16 Iowa |
| 2 | | Union | 175, 178 Ohio |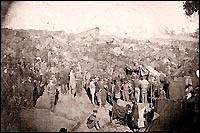 Thomas enlisted in the Union forces as a White man when the Civil War first began, .... which was two years before Lincoln's Executive Order and Proclamation to recruit Black troops in the war effort. Thomas fought in several battles, was wounded, suffered, faded to less than a hundred pounds and died as a White Yankee in the confederate prisoner of war godless hell-hole, guarded by ruthless Alabama born hate filled non-Christians in Andersonville, Georgia.
The camp had come into existence as a strategic relocation from Richmond, Virginia when the confederates were forced to abandon their capitol and armaments industries; ... and the belief that deep in the heart of Dixie would be safe from Union force penetrations and rescue of their prisoners. And, having established the new place for captured Union soldiers, ... the confederates lacked food and supplies to support it in face of being chased out of the Shenandoah Valley bread-basket and isolated from other losing sources of agricultural wealth.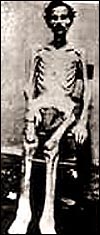 Camp guards themselves were totally dependent upon loyal slaves in the vicinity to grow, harvest, prepare and cook food for them. It is ironic that so many Alabama rebels living there were able to find favor and strike fear in the hearts of slaves afraid to run away.
Our first wonder is did any of Clarence Thomas' ancestors working at the camp ever offer prayers or maybe even a piece of bread and drink of water to comfort to suffering prisoners as they died?
And the second wonder is did he know about his cousin John C. Hemings also held there until swapped in a prisoner exchange and released to General Sherman in Atlanta who had defeated writer Margaret Mitchell's heroes like her beloved "Ashley, Rhett and other gentlemen" who fled for their lives when "Uncle Billy Sherman" had come to call with his boys from Ohio covering over ten miles per day in his great march from Savannah to Atlanta.
The untold story about men like Thomas Hemings is not so much that they fought and died but rather tried to help "the least of us" deserving or not like ancestors of those who watched and "waited for the Lord to set them free."
But, rather Thomas, his siblings, father and mother knew that freedom given can be taken away, ... and each generation is called upon from heaven and earth to give their best to receive the blessings of life, liberty and pursuit of happiness.
Husband's Name
Madison HEMINGS
Born:
19 Jan 1805
Place:
<Monticello, Albemarle County, Virginia>
Died:
1877
Place:
Ross County, Ohio
Married:
1831
Place:
Charlottesville, Virginia
Father:
Thomas Jefferson
Mother:
Sarah (Sally) Hemings

---

Wife's Name
Mary MCCOY
Born:
1808
Place:
Virginia
Died:
1867
Place:
Ross County, Ohio
Married:
1831
Place:
Charlottesville, Virginia
Father:
Mr. McCoy
Mother:
Ms. Hughes

---

Children

---

1.
Sex
Name
M
Unnamed Son HEMINGS (First-born baby boy born and died in Charlottesville. Believed to have been named John to honor Madison's favorite uncle, John? who also mentored him as a surrogate father and trained him as a carpenter)
Born:
Abt. 1833
Place:
Charlottesville, Virginia

---

2.
Sex
Name
F
Sarah E HEMINGS (Named after Madison's cousin Sarah Jefferson Randolph)
Born:
1835
Place:
<Ohio>
Died:
1884
Place:

---

3.
Sex
Name
M
Thomas Eston HEMINGS (Named to honor Madison's Father Thomas Jefferson and brother Eston Hemings)
Born:
1838
Place:
Ohio

---

4.
Sex
Name
F
Harriet HEMINGS (Named to honor Madison's sister Harriet)
Born:
1839
Place:
Ohio

---

5.
Sex
Name
F
Mary Ann HEMINGS (Named to honor Madison's Aunt Mary Hemings and cousin Ann Jefferson Randolph)
Born:
1843
Place:
Ohio

---

6.
Sex
Name
F
Catherine Jane HEMINGS (Named to honor Madison's cousins Catherine and Jane Jefferson Randolph)
Born:
1844
Place:
Ohio

---

7.
Sex
Name
M
William Beverly HEMINGS (Named to honor William Wilberforce and Madison's brother Beverly).
Born:
1847
Place:
Ohio
Died:
1910
Place:
Fort Leavenworth, Kansas

---

8.
Sex
Name
M
James Madison HEMINGS (Named to honor Madison's Uncle James Hemings and cousin James Madison Jefferson Randolph who died).
Born:
1849
Place:
Ohio

---

9.
Sex
Name
F
Ellen Wayles HEMINGS (Named to honor Madison's cousin Ellen Wayles Jefferson Randolph)
Born:
1856
Place:
Ohio
Died:
1936
Place: