Ellen Wayles Hemings was born in 1856 as her father and mother's tenth and last child beginning with the first-born that died in 1836.
---

9.
Sex
Name
F
Ellen Wayles HEMINGS (Named to honor Madison's cousin Ellen Wayles Jefferson Randolph)
Born:
1856
Place:
Ohio
Died:
1936
Place:
Both enlightened and educated by the circumstances of the great abolition movement, civil war and wars that followed in which relatives participated, ... she was likely a witness to the denigrated souls released from slavery. Born in the same year as Booker T. Washington, she would have had a near totally different experience and world-view from that described by him in his book entitled "Up From Slavery." In fact, her existence is proof that people of African heritage, like most other ethnic groups in America, ... have never been monolithic, at any time, as described by most scholars, writers and novelists.
We ask ourselves the question "What did she know and when did she know it" about the utter ignorance, poverty and disease coming up-river to Ohio from down river in Virginia and the ante-bellum south. So far as we can determine she embraced her education opportunities in small-town Ohio as a path to Christian enlightenment allowing her to read and learn about others of African heritage in Ohio who were perhaps also listed as White. No doubt that would have been an issue in her life of "to be, or not to be" in pursuit of happiness. Her father and mother, older sisters, brothers, aunts, and cousins by time of war's end, ... would have cautioned her to the pitfalls of being identified among "the least of us."
The 1870 census reflects that she and others in the household of Madison Hemings were classified as White by the census taker because they looked White, ... albeit Madison a few years later had his reminiscences published that clearly identified his African heritage.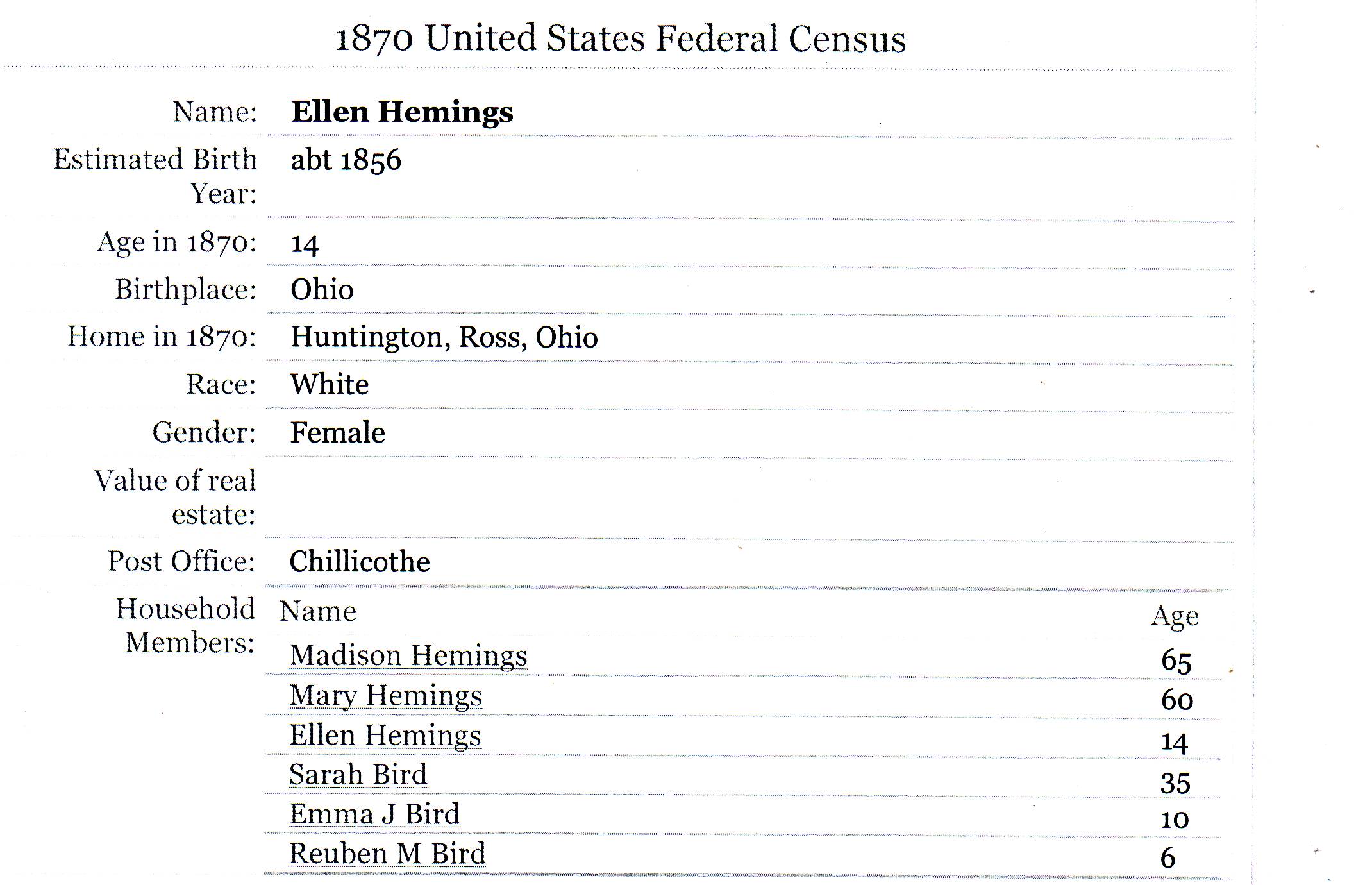 CONTINUED FROM: Julia Ann Hemings, born 1851