Thomas Lee, born abt 1790 is believed to have been one of the unfortunate dowry slaves of Martha Washington and sold by Busrod Washington following her death in 1803. And, if so was likely/possibly the son of William Lee by an unknown mother. Our reasoning is that William Lee was the only slave allowed to use the surname Lee.
A review of Thomas Jefferson's farm-book reveals that Tom Lee, a skilled craftsman (listed as a cooper by George Washington) was likely acquired by Thomas Jefferson as a rental in 1809 from General William Chamberlain as owner who would have acquired him via sale from Bushrod Washington. His existence in Ohio at time of the 1850 census is consistent with the well-known practice of many mulattoes in Virginia (such as Madison Hemings and his brother Eston) relocating to Ohio and listing/living as White men with most privileges thereto. The 1850 census listed his first child born in Ohio to be 15 years which indicates he left Virginia around 1835 in the same time-frame as Madison and Eston.
| | |
| --- | --- |
| Name: | Thomas Lee |
| Event Type: | Census |
| Event Year: | 1850 |
| Event Place: | Leesburg, Union, Ohio, United States |
| Gender: | Male |
| Age: | 60 |
| Race: | White |
| Birth Year (Estimated): | 1790 |
| Birthplace: | Virginia |
| House Number: | 305 |
It is possible the above Tom Lee was born at Mount Vernon, and the son of William Lee via an unknown mother. Our reasoning of possibilities is based upon Thomas Jefferson's farm book and the listings of slaves at Mount Vernon unique for allowing them to use the surname of "Lee" a privilege granted to William Lee and no one else.

Apologists for slavery who rationalize that slave owners were entrapped in caring for slaves at great cost and expense to themselves always ignore the profiteering that existed in the peculiar institution whereby men and women invested in slaves to lease them out, ... like the rental of trucks.
There is no evidence of slaves being freed because an owner no longer had need of them or the fact that such was possible under various laws. Rather, otherwise honorable men and women often living out of state invested in slave property and then entered into leaseholds for their use in various functions ranging from coal mining to transportation and agriculture, and even as clerks or quite often sex and even love as occurred with Thomas Jefferson's lease of Mary Hemings to Colonel Thomas Bell. Indeed, many White gentlemen were also capable of love.
The very nature of leasing slaves out to other White household, land and business owners was a contradiction to what defenders of slavery liked to pretend existed, ... that slaves were ignorant beings dependent upon them versus the opposite reality they depended upon slaves to exist in the ante-bellum south. And, many slaves were able to take advantage of the opportunities for travel to and from psychologically dependent Whites who valued their skilled and unskilled presence.
Thomas Jefferson's Farm-Book entry in year 1809 when he returned from the Presidency in Washington, D.C. to private life at Monticello, ... he was engrossed by the customary transactions of a slave owning, leasing and enforcement system of economic development and enterprise that spanned across the new nation. So far as our research can determine, General Chamberlain who owned Thomas Lee did not live in Virginia and may never have even seen him as a piece of investment property managed by a slave owner's agent, ... like Tobias Lear apparently did for George Washington.
Ironically, the biography on wikipedia for General William Chamberlain who lived in Vermont and served in its legislature does not mention that he ever traveled south, invested in slaves or otherwise contributed to the cause of slavery. Most American scholars and lawyers still do not grasp the money making schemes that fueled the slave industries and investments that erupted after the American revolution.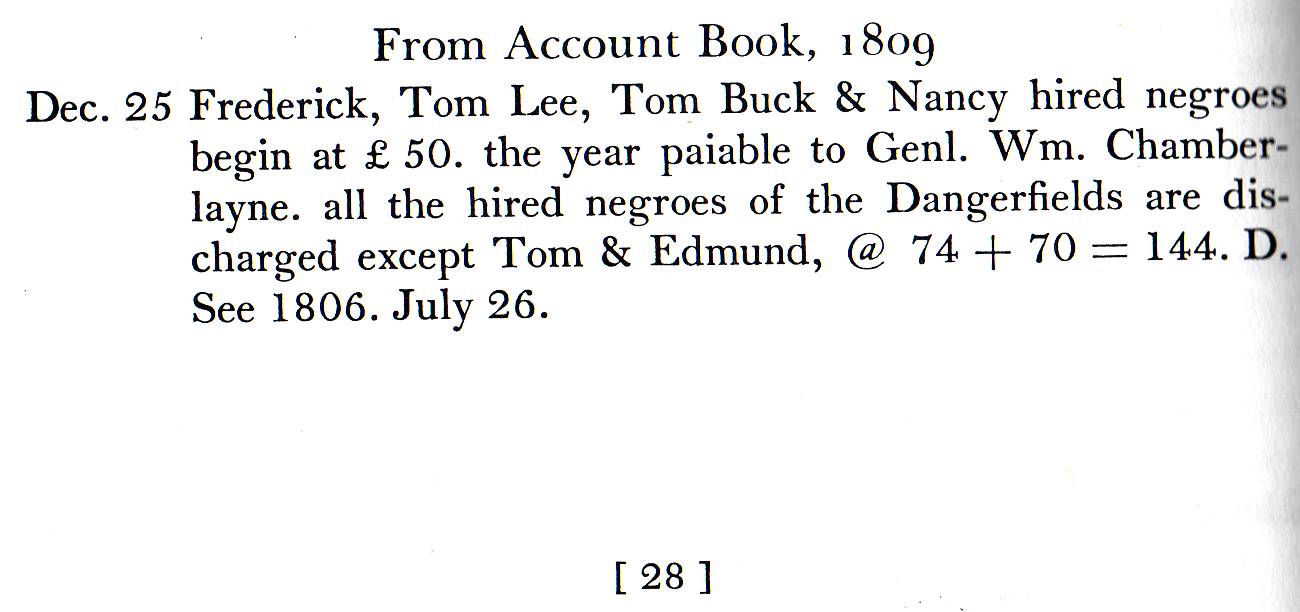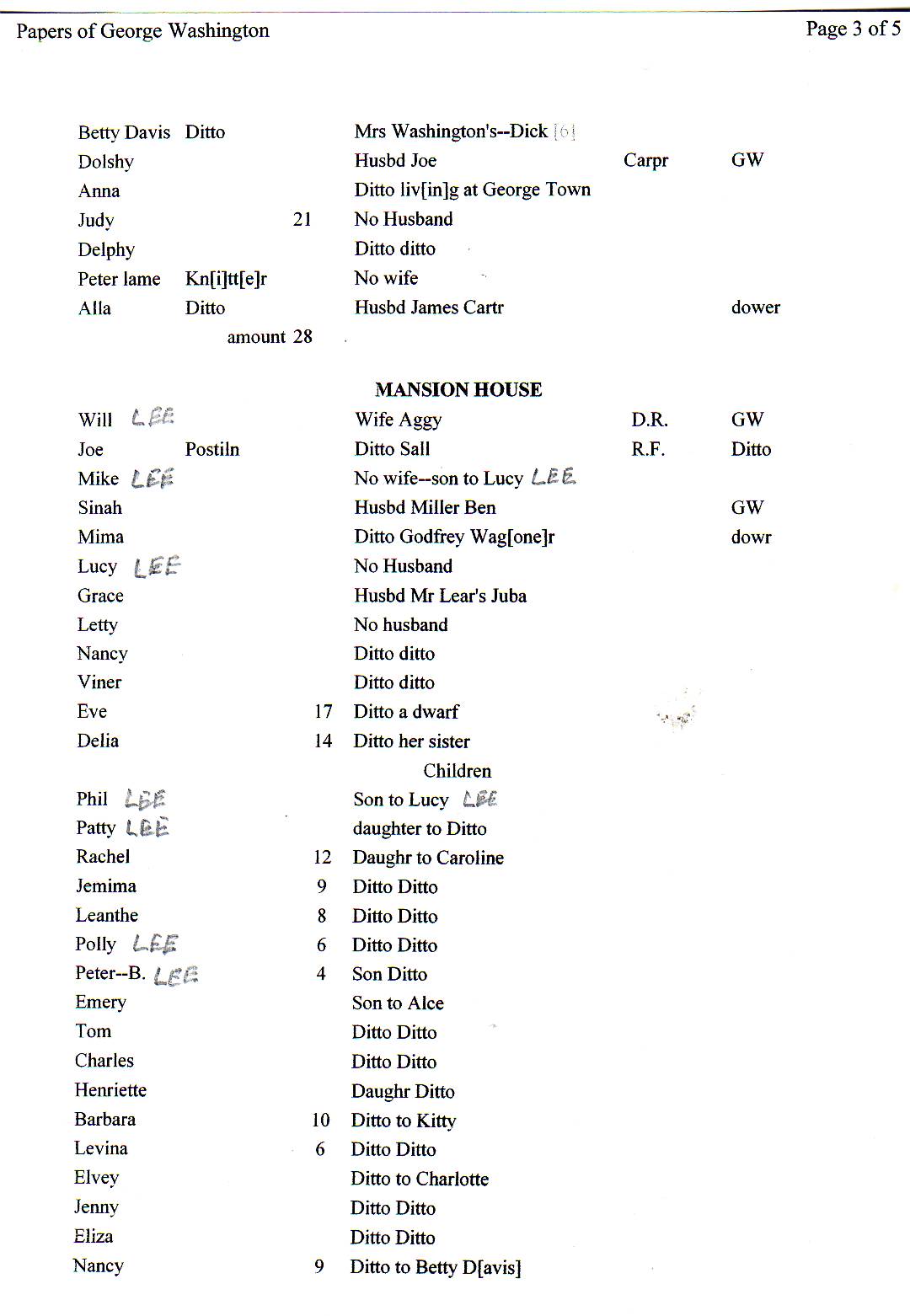 Above listed Tom on George Washington's listing of Mansion slaves is believed to have been Tom Lee and a likely missing link in the stories as to how Lee offspring generations came into existence in western Virginia, ... as far west as Roanoke. Our suspicion is that Tom was likely engaged in one of the many skilled functions of the era relating to horses and livery work. The possibility exists also that one or both Tom Buck and Nancy leased to Thomas Jefferson by General Chamberlain were also descended from William or Frank Lee at Mount Vernon.
A major problem for the Lee offspring that were technically free, was that in order to remain in Virginia near their relatives who were not, ... they had to sign themselves onto bonded servitude for men like General Chamberlain for perhaps 25 pounds sterling per year and who subsequently often leased them to men like Thomas Jefferson for upwards of 50 pounds sterling each per year and locations distant from where families were located.