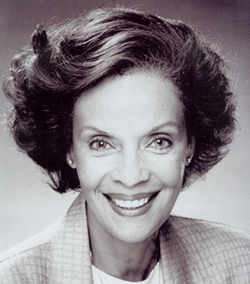 EASTON, Pa.(www.lafayette.edu), February 9, 2005 — Lafayette will inaugurate a series of major conferences on the history and culture of civil rights and civil liberties with a three-day conference entitled "Paul Robeson: His History and Development as an Intellectual" on campus April 7-9.
Jewell Robinson, public program director of the Smithsonian Institution's National Portrait Gallery, is writer, producer, and narrator of "A Robeson Portrait," which will be performed by Alvy Powell of the U.S. Army Chorus at 7 p.m. Saturday, April 9, at Williams Center for the Arts (see conference schedule).
The multimedia production was first staged last February in Washington, D.C., during Black History Month. For Robinson, the Lafayette presentation is an exciting opportunity to do a reprise of the program with Powell, who will sing Negro spirituals and other songs that convey the Robeson story.
Robinson is creator and producer of the National Portrait Gallery's live performance series "Cultures in Motion." The series acquaints adult audiences with the museum's collection by bringing its subjects to life through one and two-person shows featuring professional actors, staged readings, and musical performances.
Over the past 13 years, Robinson, an award-winning actress, has presented, produced, written, and occasionally performed in more than 100 original programs about Americans whose contributions merit inclusion in the NPG collection.
Performing in the "Cultures in Motion" programs gives her the opportunity to utilize her acting talent, which has taken her to Broadway and to virtually every professional theater in the Washington, D.C., region. She received the 2001 Helen Hayes Award as best supporting actress for her work in the Arena Stage production of Blue; the Audelco Award for her work in Blue at New York's Gramercy Theatre; and the Mary Goldwater Award from the Theatre Lobby Foundation for her body of acting work.
She sees both the Lafayette conference and the attention paid to Robeson by the National Portrait Gallery as necessary and well-deserved praise for the man.
"For too long, people like Paul Robeson have not been part of mainstream history. In fact, he was an important American – not just an important African American – and a representative of the United States all over the world. He is someone we all should be proud of for his contributions," Robinson says.
As Robinson sees it, Robeson has earned his place in the NPG for multiple reasons. The museum's mission is to "keep generations of remarkable Americans in the company of their fellow citizens" and to honor and recognize those who have "left their mark on our country and our culture."
"Robeson had an intellectual and cultural interest in things and people from all over the world. In the United States we are too isolated to appreciate other peoples' cultures – isolated because of size and geography – so we tend look at things through our prism," Robinson says.
"But he could look at others' points of view and embrace them," she says. "He was a representative of African Americans and a civil rights leader before his time."
In discussing Robeson's demise, she cites "his moral center that made him speak out. He wasn't going to allow himself to be swayed. He had a platform and that made him more threatening."
As an actress and an African American, Robinson looks on this aspect of Paul Robeson's character with particular respect. He was both an "artist and freedom fighter," she says. "I always am interested in people who push the envelope."
In surveying Robeson's acting career, Robinson says that in many of his films he had roles one would expect of a black man at that time.
"A lot of his roles fulfilled stereotypes," she says. "But he was an enormous presence. He was electrifying; nobody knew what to do with him. His presence was no different than Errol Flynn."
Robinson cites Robeson's comment to loyalist troops during the Spanish Civil War as the Robeson quote that means the most to her. Like many artists who have studied Robeson, Robinson feels these words convey his essence:
"The artist must elect to fight for freedom or for slavery. I have made my choice. I had no alternative. The history of the capitalist era characterized by the degradation of my people: despoiled of their lands, their culture destroyed . . . denied equal protection of the law, and deprived their rightful place in the respect of their fellows. Not through blind faith or coercion but conscious of my course, I take my place with you."
"One has to be impressed by Robeson as a Renaissance man," she adds. "It proves the value of a liberal arts education and the types of things that Lafayette is doing to prepare students for the world."