Jerry Robinson, so the story goes, left his wife Mallie and five children impoverished in Georgia during the 1920s for reasons and places unknown. We are inclined to believe his reasons were not unlike many thousands of other young men in the south who left to seek a life better than hand-to-mouth share-cropping. And, worse case is that many thousands of young men simply disappeared sometimes found years later with a noose around their neck or other evidence of unsolved murders that were so common in the rural south.
A more likely possibility is that Jerry Robinson was one of those courageous souls that got on the wrong side of the law outside his home county and was tried, judged and re-enslaved on a infamous labor service gang until death did him apart. Living in the south meant that Black men had to be known by their county sheriff just as it was during days of slavery. Southern sheriffs were still normally on the look-out for strange young black men in their jurisdictions and routinely arrested them for charges such as vagrancy or gambling; ... and subsequent fines and sentencing to labor service works normally contracted by county governments. Black prisoners did not have any rights, such as contacting home, that a Sheriff or overseer did not want to give them, ... and many were often officially shot and killed trying to escape.
Our speculation is that Jerry was likely big, strong, fast, smart and athletic like the other Robinsons' featured on this site. More research is needed to try and learn why he left and to where by what means. Whatever the case might be, it was Mallie who made the decision to relocate into Southern California in search of a new and better life for herself and children.
http://www.earlham.edu/~berndch/jackie_early.htm
http://www.afro.com/history/Robinson/pregame.html#begin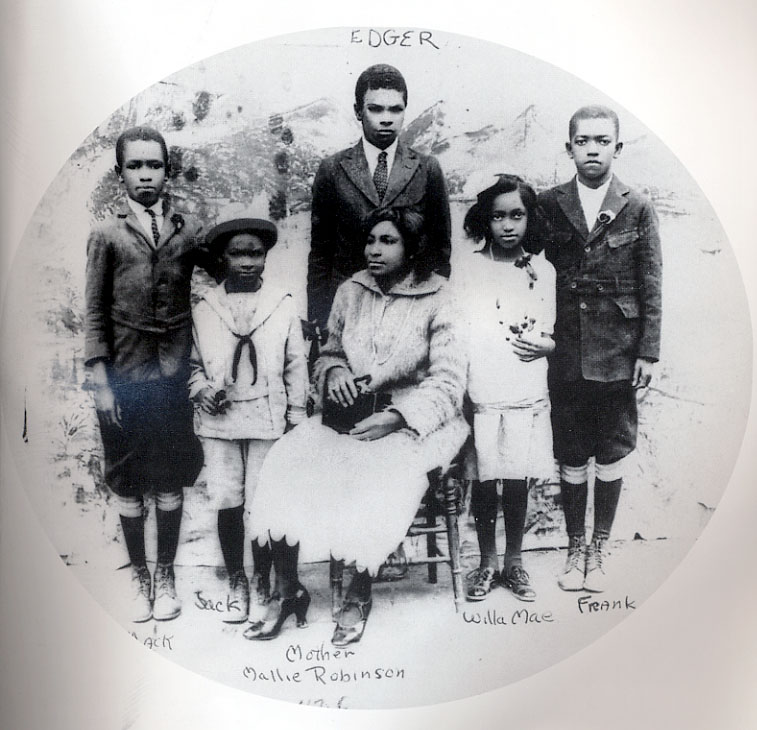 It strikes us as such a tragedy that writers like Alice Walker in book "the Color Purple" have always ignored the reality of true stories and case studies of human generation of goodness such as that of Jackie Robinson. His mother was a real woman, not a fictional illiterate character such as portrayed by Whoopie Goldberg in a period of American history (first decades of the 20th century) when Black men were being beaten, sometimes killed, often jailed and held by the thousands in counties such as described by Alice Walker.