Husband: Harold Lowry Martin, born 28 Dec 1930
Ancestor: Charles Holmes, born abt 1840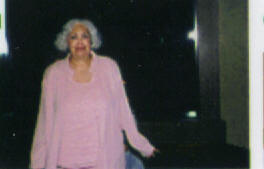 Hi Bob,
Hope Mary is better and that you are back home. This is what I can tell you of my mother's lineage.
According to the 1880 Census, Charles and Esther Holmes lived in Precinct 14, Leon, Florida. Charles was 40 and Esther was 39 at the time. They had three children: Emily, 13, Caleb 10 and William Patrick Holmes age 8. Charles was a laborer and Esther was "keeping home". Emily was away at school. William Holmes is my maternal grandfather's father. William Holmes married Rosanna Duncan.
Her family came from Chatham County GA, Savannah. She had brothers, one of whom was the last light house keeper in Chatham County. Her family was said to be one-half Seminole Indian. My grandfather said that his uncles were very tall and big as was his mother (according to the picture I remember seeing). Seminoles were said to be very large people some growing to 7 ft.
William and Roseanna had three children: Alice, Cullen and Wendell (?). Cullen was the youngest and was born in Florida on June 12, 1905. His brother was a little older than he and his sister died in infancy. Cullen Holmes was my grandfather and lived to be almost 101. He died in 2006. Cullen Holmes married Elizabeth Alease Funchess from South Carolina.
Both her father, Shadrock Arthur Funchess and William Patrick Holmes were Methodist ministers. S. A. as he was called was married to a white woman named Emma Bennett. They had several children, Elizabeth was born October ( 3 or 5) in 1906 in South Carolina. She had one brother, maybe his name was Wendell? He died during the Influenza epidemic. Elizabeth had several sisters: Emma, Ruby, Juanita and Grace.
Elizabeth and Cullen married and had three children, the youngest of whom is my mother. S.A. is said to have Native American ancestry as well but I am not sure.
I'll try doing a little more research and get back to you.
Best,
Cydnee